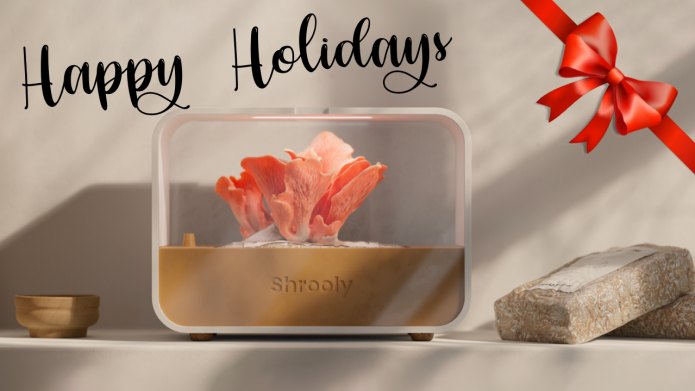 Ho-ho-ho-hello, and a very happy holiday season to you all!
1/ First and foremost, we'd like to thank you all for your patience in regards to Shrooly's new ETA.

As we've already mentioned in our October update, in order for us to ensure that the final device is up to all safety standards, we had to push the original shipping date from December 2022 to March 2023. We're still dedicated to releasing a final product without any possible malfunctions or errors, and as such, we're absolutely positive that you'll find your newly upgraded Shrooly 100% worth waiting for.

This is obviously a major inconvenience for all of us so, once again, we'd like to thank you all very-very much for your continued support.
2/ We're now working on the app for Shrooly, specifically designed for those of you who intend to take as much advantage of the Shrooly experience as possible. With the free mobile app, you'll be able to access detailed statistics, capture your mushrooms' journey on amazing time-lapse videos, and easily check on your Shrooly even when you're away from home.
3/ We've built a complex test farm (think LOTS of machines!) where we've been thoroughly testing Shrooly day and night, all parts at once. It's a lengthy process, but totally worth it. In-house testing is an important step in eliminating any possible issues for the final product, and so far, everything's looking good!
+1 For those of you who are still looking for a last-minute Christmas present (don't worry, we've all been there), check out our ongoing Holiday Sales on Indiegogo where you can get your hands on your Shrooly with a merry discount!

Stay warm and fuzzy, and see you back in January!